An interesting article posted by The Advisory, independent expert advice for house sellers.
Keep reading to discover…
How much money could you lose using an 'internet only' agent
The #1 claim made by cheap online agents you must question
A surprising truth about high street estate agency fees
And lots more…
What prompted this study?
Here's the email (from one of the UK's top 10 online estate agencies) that started it all:

We received that after telling the online agent we'd decided not to use their services and instead were going with a high street estate agent.
Their email claims:
High street agents (like online estate agents) will find your buyer by listing your property on Rightmove.
And infers:
Both high street agents and online agents will get you the same end result.
And suggests:
The only difference between the two types of agency is that online agents charge £1,000's less in fees.
We wanted to find out if they're right. Or if a strategically chosen 'no sale no fee' high street estate agent will get you a superior result?
Research goal
This study looks to answer the following question:
"

Q: How much interest is generated in a property by a high street agent over and above the direct interest generated by the Rightmove advert?
And makes the following assumption (based on the email above)…
"

That national online / hybrid estate agency services do little more than just list property on Rightmove (and other property portals) and wait for enquiries to happen on their own.
Our Unique Perspective
As serial (and unemotional) house sellers we have an interesting / unique dataset to analyse.
Unlike many homeowners:
We choose estate agents based on strict and proven criteria.
We price property 'to sell' (we do not 'test the market').
We have a 100% sales success rate.
Our Hypothesis
An audit of our historic property trades and 'managed' sales to see where viewings and offers originated, would give us solid insight into the impact a strategically chosen local estate agent (and accurate pricing) brings to a property sale.
Q. Will this impact outweigh the cost savings available from using an online / hybrid estate agency that just lists property on the Internet?…
…Will we 'net' a higher 'walkaway figure'?
Research findings
Unsurprisingly, this research confirms that estate agency services that just list property on Rightmove (or any of the other main property portals) will indeed generate:
Viewings
Offers
Sometimes even the best possible result (albeit only 27% of the time)
However, what may surprise you is just how much added value the right high street estate agent brings to the table…
Key takeaways:
Our study shows using the right high street estate agent can:
Increase viewing numbers by 48%
Increase offer numbers by 64%
Generate a more secure buyer (or buyer willing to pay a better price) 73% of the time.
Secure a 5% higher sale price (compared to using a Rightmove listing service).
73% of property sales achieved a better result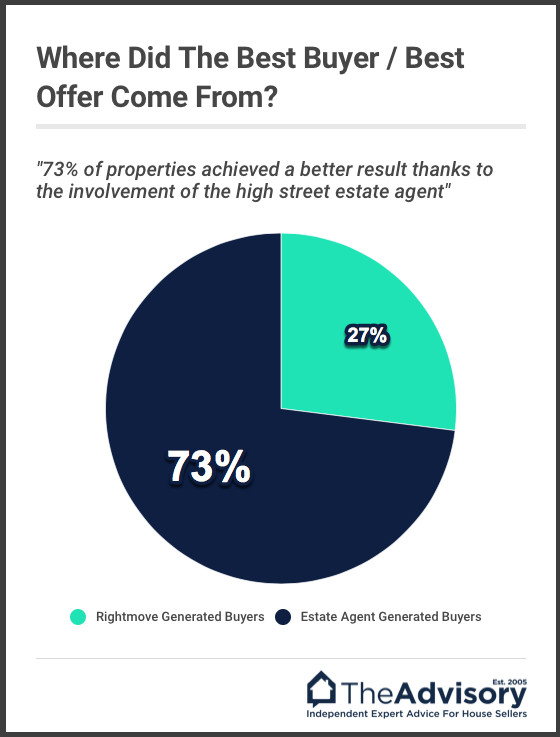 Key takeaway:
Without the involvement of a high street estate agent, 73% of the homes we sold would either; not have sold, taken longer to sell or needed a price reduction.
5% higher sale price achieved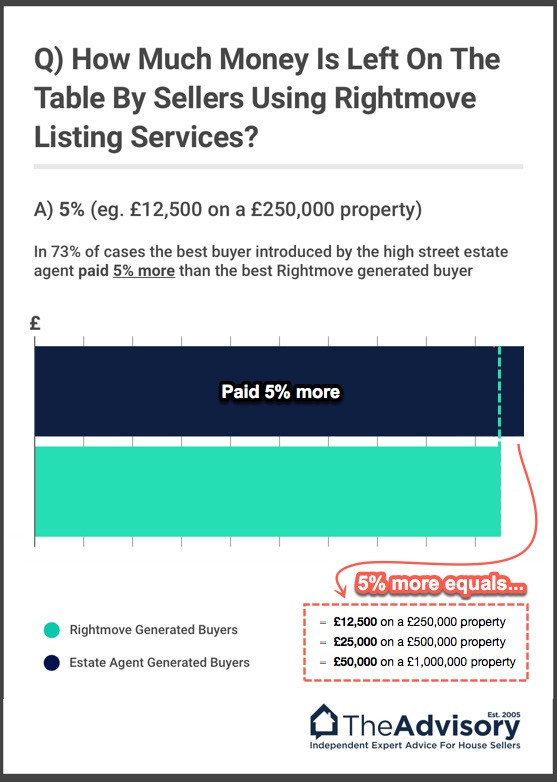 Key takeaways:
On average, the buyer introduced to the property by the estate agent paid 5% more than the highest offer from a buyer generated directly from a portal enquiry.
Extrapolated, that translates to a lot of money potentially being left on the table by sellers using internet only listing services…
Potential lose to sellers using internet only listing services
Estate agency fees: An observation
Given the UK average estate agency fee is 1.18%+VAT, good high street estate agents would seem to be selling themselves short.
Based on this research, good high street estate agents could charge up to 4% commission +VAT and still achieve for their clients a better 'walkaway figure' compared to selling with a internet only listing service charging £849.
Unintended consequences
Up until now, whenever we heard of a seller that found a buyer (regardless of their method of sale), we never felt anything really…
…Perhaps a little relief.
However, since conducting this study, things have changed.
Now, whenever we see a review for an internet only listing agent like this:

source: Trustpilot
Now, we can't help but think:
"

Great news BUT exactly how much money did you unwittingly leave on the table?
We can tell you, these thoughts are unpleasant ones to have.
Conclusions
It is fair to say the best internet only estate agents are just as good (even a little better) than your 'average' high street estate agency.
However:
"

The best high street estate agents provide the gold standard when it comes to achieving the highest 'walkaway figure' from your sale.
The best national internet only listing agents can't touch the best high street estate agents.
Listing property on the portals (Rightmove, Zoopla etc..) and waiting for the phone to ring is a fundamentally inferior sales strategy compared to listing property on the portals plus (+) proactive and focused engagement with a targeted buyer database (a.k.a. – high street estate agency hustle).
Methodology
We wanted to know what made a buyer (applicant) choose to physically view the properties we were selling.
Was it the internet advert (a portal listing) or was it the estate agent?
#1: We asked our appointed estate agents to audit their viewing logs and applicant databases to ascertain which category each applicant fell into:
Category 1: Applicant requested to view the property directly from a portal listing
Category 2: Estate agent suggested / encouraged the applicant to view the property
#2: We audited the offers put forward from applicants to uncover which category of applicant the strongest offers (and buyers) originated from.
#3. The agents were not informed of the purpose of the research request.
#4. Many of our historic sales had incomplete records but in the end we were able to secure a compete dataset for 202 sales.
#5. All sales were in England & Wales (past 24 months)
The data
The raw data used in this study can be found here.
Due to the sample size (202 sales) we make no claim that this is a definitive study.
However, it is far from irrelevant and undeniably highlights a trend we hope will be investigated further by those with access to larger datasets.